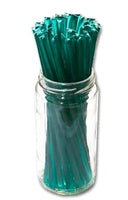 Delicious Peppermint-infused Honey in a convenient stick. Just bite the end off and enjoy! Perfect for a quick burst of energy for a snack or lunch. 

Savor the taste of peppermint & honey in an easy-to-consume stick! These Peppermint Honey Sticks hold 5 grams of honey each and are paired with peppermint to give you the luscious tarty taste of peppermint & honey. Each stick holds 5 grams of honey, and there are only 15 calories per stick. Each stick is 6.5 inches long.

Pearl Honey Spreads is the one-stop shop for Healthy Alternatives to "sugar spreads." Our spreads can be used as condiments to many varieties of food, such as breads and desserts. We virtually guarantee that your family will love our healthy honey & fruit products.

How to eat the honey stick:
1) Hold the stick on one end.
2) Pinch the seam.
3) Slide your thumb and index finger from the bottom end of the straw to push out the sweet honey.

Notes:
Do not feed to infants under 1 year of age.